Wood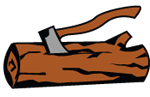 Take wood to civic amenity sites for recycling.
Wood can often be reused to make other items, such as a bird table for your garden.
Wood can often be added to your compost heap, such as sawdust and wood shavings.
Buy recycled wood whenever possible.
Recycled Wood Furniture
Recycled wood can be used to produce unique eco-friendly furniture, some great examples can be seen at reelfurniture.co.uk
Reelfurniture creates recycled wooden furniture for home and garden with the knowledge that they are acting positively to protect timber resources and conserve our forests.
Pallet Recycling
Recycling old or damaged pallets prevents unnecessary landfill and reduces the need to chop down trees for new wood to make new pallets. There are companies that offer pallet recycling absolutely free, such as Edwards & Ross Pallets.